Normally my previews stick to the Boston area, but let's define that very liberally because...
The New York Asian Film Festival begins today! Someday, when I find an employer who will pay me to travel from film festival to film festival and write about what I see, I'll be able to spend more than a day there on any given year. As usual, NYAFF focuses on popular asian entertainment, although it's not all action. The big three award winners in town this weekend, though, all hail from China/Hong Kong - up-and-comer Huang Bo (a stitch in Crazy Racer), ubiquitous Johnnie To favorite Simon Yam, and legendary martial arts star Sammo Hung.

I'll be heading into NYC Sunday for Storm Warriors, Bodyguards and Assassins, Echoes of the Rainbow, and Ip Man 2. Certainly, many of these will play Fantasia (for me, NYAFF is partly a dry run in seeing multiple films in a day and handling a long bus ride), but since I'll be working some while there, this will give me flexibility. And it's a great show on its own, spearheaded by Grady Hendrix, a New York writer whose Kaiju Shakedown blog for Variety is sadly defunct, but whose weekly previews of Asian films in New York (Subway Cinema News) is hugely enjoyable even for those of us who only get to NYC once or twice a year.



The Brattle kicks off a two-week tribute to the late, great Dennis Hopper with Blue Velvet and River's Edge tonight and tomorrow (25-26 June 2010); also playing are Giant and Texas Chainsaw Massacre 2 (Sunday the 27th), True Romance (Monday the 28th), a double-feature of Hoosiers and Rumble Fish (Tuesday the 29th), and a double feature of Night Tide and Witch Hunt (Wednesday the 30th and Thursday the 1st).



More SF-1970 at the Harvard Film Archive. I'm actually planning on getting to most of this weekend. The MFA continues with Fellini and Videocracy, and if that's not enough Italian cinema for you, a run of Antonioni's The Girlfriends begins Wednesday.



The Coolidge opens Coco Chanel & Igor Stravinsky on the big screen, with midnight screenings of Troll 2 Friday and Saturday night. Shockingly, George Hardy will not be on-hand... as far as I know.



Kendall Square also opens the Chanel/Stravinsky movie, as well as Colin Farrell in Neil Jordan's Ondine. The Cremaster Cycle pops up for the first time in a while, with the notation that it will never be released on DVD. I'm always tempted to see it, because the stills look gorgeous, but it's a big commitment for something that only runs a week and whose publicity talks about it being art about art and creating art, which makes me wonder how far up his own rear end Matthew Barney really is.

The three programs will be bouncing around the Kendall's schedule, which should also be watched carefully because Love Ranch with Helen Mirren and Joe Pesci (apparently, neither dead nor retired) opens Wednesday the 30th, compressing Solitary Man and Please Give to half-screens for a couple days. The Girl With the Dragon Tattoo is now down to two shows a day, as well, which is still amazing staying power for a movie that opened back in March and whose sequel comes out in two weeks.



Cyrus, Grown Ups, and Knight and Day open at the mainstream theaters. Well, the Harvard Square Cinema for Cyrus, but the IFFBoston alum is on two screens there. Speaking of IFFBoston, Micmacs migrates to the Somerville Theatre, which also has Wattstax on Tuesday and Wednesday as part of its rock film series, and an indie comedy by the name of Wah Do Dem opening in the digital screening room (American, despite the odd name; I suspect it will be explained as something from Jamaica, where the movie is set).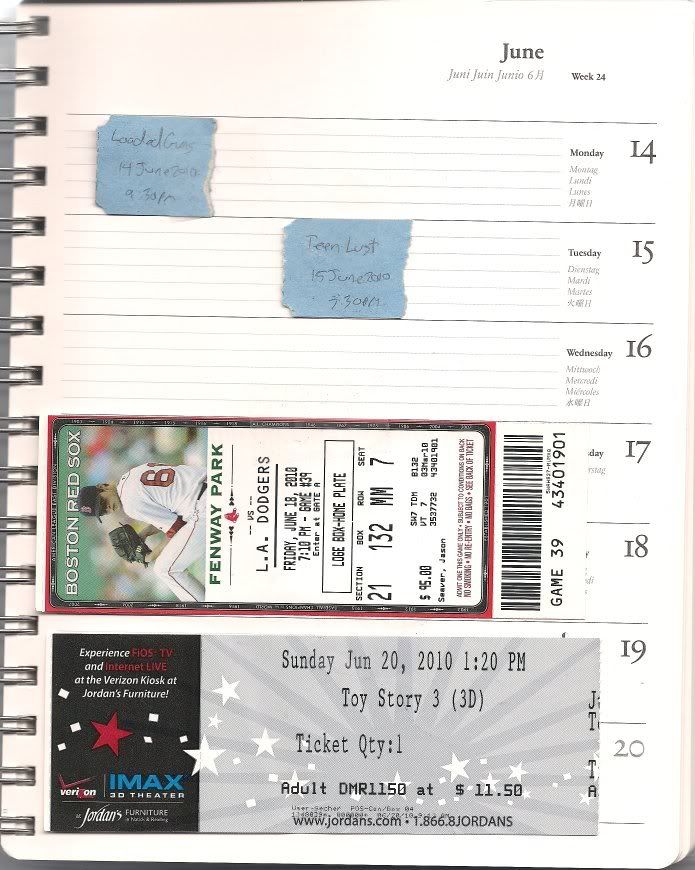 Awesome ballgame; it was Manny Ramirez's first visit to Fenway Park since his trade to the Dodgers (and all the soap opera that led up to it, and although I could have done with fewer people booing the man - I tend to think that someone who can boo the MVP of the 2004 World Series has no business being a Red Sox fan - the Dodgers fans made up for some of it. (Tangentially, I suspect that even with the down economy, the Fenway sellout streak isn't going to be in any danger anytime soon; it's too much a destination on its own, so that even when the locals aren't buying, the visitors and tourists are) A highly-touted prospect made his big-league debut, the Dodgers' bullpen got taken to the woodshed in a crazy inning, and the whole thing ended with Josh Bard striking Manny out to seal the win.
I picked up a couple "free" tickets for
Toy Story 3
for buying the previous films on Blu-ray (quote because even for kids, $8.50 isn't going to get you a whole movie ticket for something released in 3-D/IMAX), but didn't check to see if they offered them for the furniture stores. It probably wouldn't have mattered, as it would have been tough to use them when ordering online, and that was a necessity - when I arrived at Jordan's for the 1:20 show at 12:30-ish, there were signs saying that they were sold out all day, with maybe an 8:30pm show available. And to think they're only showing it for 12 days, so that
The Twilight Saga: Eclipse
can take over the screen. I half-expect it will be showing up at the Aquarium after that; this movie is just too good (and popular) to stay off the gigantic screens.
Toy Story 3)
* * * ½ (out of four)
Seen 20 June 2010 at Jordan's Furniture Reading (The IMAX Experience)
Toy Story 3
is
Toy Story 2
redux, but that's setting sights high rather than cashing in - after all, they did wait over ten years to go back to that well. And while there is something a little disappointing about treading the same territory twice, it sets up a finale that pays off the questions raised in the second film.
As Pete the Prospector said back then, kids grow up. Andy (voice of John Morris) is seventeen and heading to college, and his toys haven't been played with in a long time. Andy selects cowboy doll woody (voice of Tom Hanks) to come to school with him, but puts his remaining toys - Buzz Lightyear (voice of Tim Allen), Slinky Dog (voice of Blake Clark), Bullseye, Jesse (voice of Joan Cusack), Rex (voice of Wallace Shawn), Hamm (voice of John Ratzenberger), and Mr. & Mrs. Potato Head (voices of Don Rickles and Estelle Harris) into the attic. A mix-up has them at the curb on trash day, and though they escape, they decide they're better off joining the toys Andy's sister is donating to a local day care center). The senior toys there, Lotso Huggin Bear (voice of Ned Beatty) and Ken (voice of Michael Keaton) seem welcoming, but... Well, what follows is a madcap delight as Pixar spends the bulk of the movie doing the two things that Pixar does best, before getting to their more recent skill.
The first is to introduce a whole raft of new characters - not only at Sunnyside Day Care, but in the bedroom of a little girl who goes there. It's a riot of creativity to rival the first film, every new toy with a fully-realized personality and voice that fits their design perfectly - and not always by being exactly what you expect! One thing that is nice to see this time around is that there are more women and girls in the cast; the previous two films in the series were by and large boy-toy stories, and this really feels like a broader, more varied cast.
Full review at EFC