If you're here for movies, you might as well stay above the calendar page, because I didn't see any movies last week while on vacation. Read a ton, rode a bunch of trains, checked out a lot of museums. Moviegoing is being saved for this and next week.
The Brattle teams with Alamo Drafthouse programmer Lars Nilsen for Revenge of the Grindhouse. The vast majority look terrible, of course, but in the very best way.

Speaking of the Alamo Drafthouse, which I know firsthand is a sweet place to see a movie or a dozen, the news about original owner Tim League returning as CEO mentions the potential for expansion across the country. I believe I speak for a number of people in the Greater Boston Area when I say they'd be welcomed with open arms. I don't know if the Circle Cinema is still movie-theater shaped enough to be easy to move into, although my idea tends to be the old Polaroid buildings in downtown Cambridge. But, anyway, it's clear the Alamo folks have friends up here, so... c'mon up!



The Somerville and Arlington Capitol theaters are something I often call "1.5-run", so they often don't get a lot of individual attention, but this week a couple interesting things are opening there: The Capitol picks up Metropolis, so if (like me, dammit!) you missed it at the Coolidge, you've got a second chance. Somerville opens an intriguing true-crime documentary by the name of Cropsey (I believe in the digital screening room downstairs), as well as a pair of music-related features: Elvis:That's the Way It Is on Monday, and the director's cut of Woodstock on Tuesday and Wednesday.



The Coolidge opens The Oath on Friday, with midnight shows of Dazed and Confused. Oddly, Micmacs looks to be delayed.



The Kendall's one-week warning is for Belgium's Academy Award submission, The Misfortunates. Other openings there include a couple from April's local film festivals: Harry Brown opened the Boston International Film Festival; Solitary Man played IFFBoston.



Speaking of former festival films and Austin, the MFA runs Beetle Queen Conquers Tokyo from tonight to Sunday afternoon- one show a day, jumping around. I saw it at SXSW last year, and quite liked it. They've also got a preview of I Am Love which I saw at IFFBoston and liked much less.



The Harvard Film Archive continues with a second week of Vittorio De Sica – Neo-Realism, Melodrama, Fantasy.



The mainstream theaters open the new versions of The Karate Kid and The A-Team. Strangely, I'm looking forward to both of them.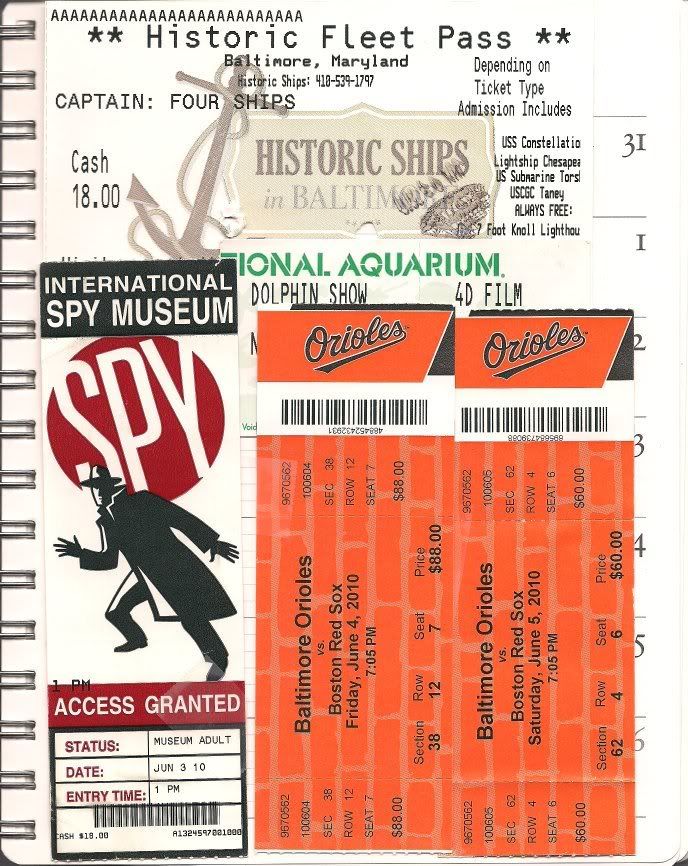 Stubless:
The Smithsonian
,
Sunday's ballgame
.
The tickets on that page cover a week spent in three cities, without spending a whole day in one until Friday - I started Monday in Annapolis, checked out of one hotel, caught a bus to Baltimore, and checked into another. Tuesday, Wednesday, and Thursday were spent almost like a commuter, spending an hour each way on a train to Washington, DC. And while it's pretty darn cool that you can do that, I think I'd like to just do Washington the next time I'm there, if only so that I'm not looking at the time toward the end of the day. My cousin Laura told me I had to see them light the monuments up at night, but all three days I got nervous about sticking around until the last train back at 9pm. I also had a bit of a cold those days, the kind that just gets worse as the day goes on, never bad enough to make you really feel awful but kind of noticeable.
I spent the bulk of my time in Washington at the various Smithsonian museums, because the Smithsonian is, when you get right down to it, amazing. It's close to a dozen museums in close proximity to each other around the National Mall. Great big buildings, packed with treasures ("artifacts" seems too subdued for the amazing things you'll find in there), open to the public every day without charging admission. That's quite frankly mind-boggling; if you've got broad enough interests, you could build a full and economical vacation out of those buildings alone.
Heck, when I was planning my trip, I jokingly told my friends and family that I could probably spend a whole day in the
Air & Space Museum
alone. I entered at around 10:30, finished poking around what was in the lobby something like forty-five minutes later. The next time I checked the time, it was something like 5:30, and there weren't many trains on the Camden line left. It was exhausting at times, and a lot of the displays seemed to focus on early-twentieth century aviation - there's a Wright Brothers exhibition, a World War I gallery, and another section modeled on a 1910s air show. Very cool, and although there was a part of me that thought it was a bit repetitive, it probably did a good job of reinforcement.
(Some exhibits seemed to be a bit behind the times, though - a gallery on the planets varied between saying there were eight or nine, for instance, and the first thing you see when entering the gift shop is a wall filled with Fuji film, which I'm sure all the kids with their camera phones and digital cameras must have been very curious about!)
Tuesday was spent in the
American History Museum
and
Natural History Museum
. Both are filled with flat-out nifty things: I especially liked the Apollo Theater exhibition in American History, and probably had a big, stupid smile on my face when I saw Kermit The Frog there. Natural History, though... That place has dinosaur skeletons, a gorgeous display of gems and minerals, and many other fascinating things. I feel a little embarrassed that I can't remember which of the two had the display on Korea; even though it was a small one, there are lots of bits of it that I'll remember when I'm watching movies at NYAFF and Fantasia this summer, not the least of which is that the Korean alphabet doesn't have hundreds of letters, but around 22; I'd never realized that the complicated symbols were actually just two or three simple ones stacked one on top of the other.
Wednesday started out elsewhere, at the
International Spy Museum
. I was kind of curious about it because my brother Matt's employers were at one point going to be building an interactive attraction for it; I opted for the regular museum path, so I didn't see what the interactive portion was like. What I did see was pretty nifty, though - it's nifty seeing how much of the miniaturized spy equipment of fiction was real and how much was greatly exaggerated. Once I got out, it started to rain, and the Smithsonian's
American Art Museum
and
Portait Gallery
were right across the street, so I ducked in there. I mostly avoided the portrait gallery portions, but was more engrossed in the art museum than I expected. And that's not just because it's the building where relatively absent or restrained!
For the weekend, I stuck around Baltimore, really not going far from the Inner Harbor. Friday afternoon, I found a nice spot to sit and readbefore getting hungry enough for some fish & chips, then spent the rest of the afternoon on the four ships of the Maritime Museum. Even if you're not as methodical about checking out every square inch as I can be, it's still standing on the decks of a ship that took out slave ships during the Civil War, the last surviving ship from Pearl Harbor, a Coast Guard Lightship, and a submarine. That's cool.
Saturday was spent first at the
Babe Ruth Birthplace & Museum
, followed by its sister facility, the Sports Legends Museum at Camden Yards, and then the
National Aquarium
. The Babe's childhood home was pretty neat,as was the Aquarium, which had plentiful rays and sharks and a traveling jellyfish display, though didn't seem quite so cool as the New England Aquarium in Boston (in fairness, I passed on the dolphin and "4-D" shows).
Of course, Friday and Saturday night, and Sunday afternoon, were spent spending watching the Red Sox visiting Oriole Park at Camden Yards, which was just a fantastic experience. I'm probably never going to love another ballpark like I love Fenway - I've been going there since Yaz's last season and sort of love that it was built almost a hundred years ago for playing and watching baseball, and has remained stubbornly ill-suited to anything else - but Camden Yards is a nice one. What I like most about it is that it is very much a part of its city (no mean feat, considering how parking tends to form a moat around places like this), to the point where the two blend into each other. It's also not ostentatiously quirky in its dimensions. And, even day of game, you can find good seats for less than you'd pay at Fenway, even considering that the O's jack the prices 50% when the Sox and Yankees come to town. Of course, the Orioles getting good might cut down on that.
The first two games were highly-enjoyable butt-kickings, with Friday featuring an especially fine performance by pitcher Clay Buchholz. Sunday was a tight game that went to extra innings, and also lasted long enough for me to miss the 6pm train north and have to settle for the 10:45pm one. Yes, that gets me into Boston at roughly 8am on Monday, which meant immediately turning around and heading for work. And after that... Well, that's next week.