I think there were about a half-dozen or so of us in the screening room for
The Azemichi Road
, which is a bit of a bummer; it's a pretty good movie and I would rather like ArtsEmerson's Saturday afternoon screening series to last at least long enough for my friends Gil & Amanda to be able to take their new daughter there in a few years. They love movies, and joked about how they were going to start having real concerns about the state of children's cinema starting this fall.
As far as I can tell, ArtsEmerson has the most ambitious program of family-friendly films of all the Boston area's independent and repertory cinemas: Most Saturdays at 2pm, they're running something you don't have to worry about bringing kids to, especially if they're old enough to be reading subtitles. The Coolidge has puppet shows and occasional film programs every few weeks, and the Brattle does fun stuff around the holidays (and is never more fun than when parents are showing their children the joy of silent pictures), but a well-curated program that shows kids that there can be more to movies than the stuff Hollywood makes for them is something that is good in the short and long-term.
If they're taking suggestions, I'd like to propose a couple from Japan: Mamoru Hosoda's and Satoko Okudera's
Summer Wars
, and Tetsuya Nakashima's
Tatsuya and the Magic Book
. Saw them both at Fantasia (different years), and would love to both see them again and show them to other people.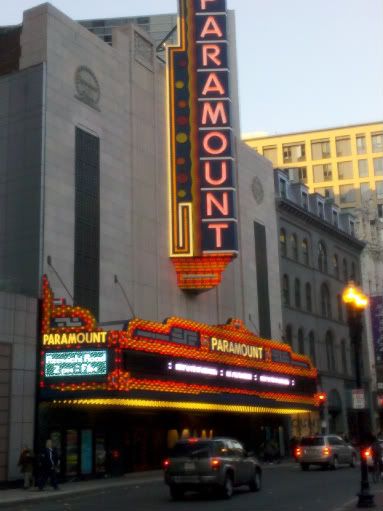 The Bright Family Screening Room is the second new room I've checked out in the past week, and I didn't see it under optimum conditions - this particular movie was widescreen and projected from DigiBeta media, and the low resolution was fairly evident in some shots. I've heard that the arrangement of the projection booth is such that film projection is sacrificed for digital, in that the 35mm projector is off-center. I can see where this would be a problem if the case, as while the room is wide enough to include a good-sized screen, it is not very deep; I counted 9 rows averaging 18 seats across, and the last couple are actually under the overhanging booth. If you can get seats in the center, you'll probably want to do so, as you're fairly close to the screen no matter what.
It's a nice-looking room for all that, in a very nice-looking building. Even when it was lying empty, the landlords kept The Paramount looking pretty good on the outside, and the restored lobby is nice-looking. It mostly serves the large main theater (which started out as a cinema, and for all I know could still be used as one), and has no concession stand - like the Harvard Film Archive, ICA, and Omnimax theater at the Science Museum, it's not that kind of place. I grabbed some peanuts from the vendor across the street, and I
may
have finished them before entering the theater. Less important is that the elevator is somewhat discrete, so you may not see it in the lobby, which I suppose could be an issue if you're not up to climbing to the fourth floor of the building.
The other thing to keep in mind when going there is that that screenings often take place at about the same time as theatrical productions and concerts (there are at least two separate stages in the center) - make sure you get there in time.
I'll be giving it a second look in a couple of weeks, when they play the original version of
The Housemaid
on 4 December. That's a 35mm print playing during the evening, so it will be a different view.
The Azemichi Road
* * * (out of four)
Seen 20 November 2010 at the Paramount Center, Bright Family Screening Room (special engagement)
I haven't seen enough from either locale to be considered an expert (I'd probably be kind of creepy if I had), but it seems that while American movies for and about teen/"tween" girls often tend to have a plot driven by a boy, while similar movies from Japan practically ignore them altogether, focusing much more completely on the relationships between the girls. This in and of itself isn't better or worse, or more or less accurate, but it works for
The Azemichi Road
; when it gets to the sappy bits near the end, it is all about these friendships and rivalries, without anyone being diminished.
Yuki Takano (Haruka Oba) has a hard time relating to the rest of the world; despite her prominent ears, she's severely hearing-impaired. One day, on a lonely visit to the city, an ad for the group Rip-Girls catches her eye; later, she spots a group of girls her own age practicing the same dance moves. One of the girls, Rena (Misaki Futenma), knows some sign language and invites her to join their dance crew, "Jumping Girls". It is, as one might expect, difficult for Yuki to catch up with the other girls, so she practices harder, and Rena works with her - which leads to jealousy from Miki and Noriko, both for how quickly Yuki moves to the front row as the Jumping Girls prepare for a competition and how much of Rena's attention she gets, and from the other girls at the school for the deaf, where she'd been considered a leader before she started spending all her time with hearing kids.
The Azemichi Road
is not a complicated movie; it is made for a young audience and the goal is not exactly to impress audiences with its narrative complexity. It's a story about overcoming challenges and how the dynamics of friendship can be both rewarding and perilous. That's not exactly unmined territory, and there's sometimes a bit of a sense that the filmmakers don't want to push too hard: At the moment when Yuki is being treated the worst by the other members of Jumping Girls, the emotional speech comes out, and not just those conflicts, but the ones at school, more or less vanish from sight. Some of the issues aren't expanded on quite so much as they might be; for instance, Yuki doesn't tell her mother about her dancing, and it's an issue, but it's not clear why she wouldn't.
Full review at EFC.