This was my last day of genuine vacation before starting to dial in from work on Tuesday, and I opted not to waste it. There's been a thing I've been wanting to do every year I've come here, at least for the past few, but I've always had a devil of a time making it work. This year, though, I finally made it: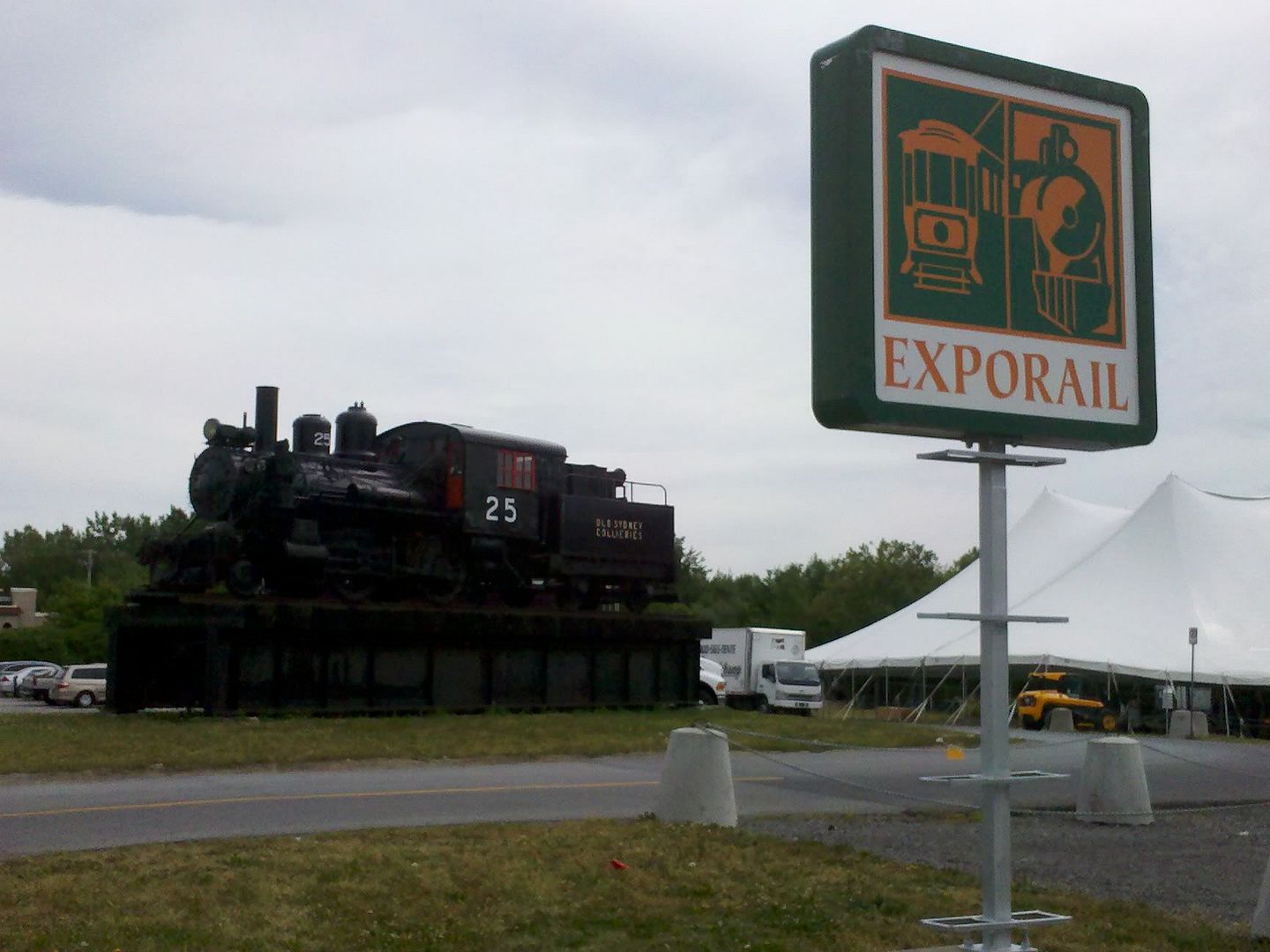 Exporail!
Exporail
is a great big railway museum, the sort of thing that requires far too much space to actually keep in the city, but which I have (somewhat ironically, perhaps) found difficult to access by public transportation. To be perfectly fair, my own language skills have been a big part of what made it tough for me to get there; the various transit websites for the area are not particularly English-friendly and my French is, as I may have mentioned, not great.
Monday was not a particular exception; though I finally figured out that I could take an AMT train from Lucien L'allair station to St. Constant, I'm not sure what the point of "verifying" the tickets was, especially since nobody ever checked them on the train like they do on the commuter rail. I also completely spazzed on which door to use to get out of the train at St. Constant, wound up getting at the next stop, and almost wound up in the wrong place because some signage there seemed to indicate that trains going the opposite direction were on the other platform (which seemed to be closed off). Fortunately, I only lost fifteen or twenty minutes to that - there was soon another train coming in the opposite direction, but those were twenty precious minutes, as the line in question has a weird asymmetric schedule - trains out of Montreal all day (though hours apart), but trains back into the city stopped running at 1:15 or so, leaving me with about three hours total.
So, I would have liked to have more time, but I got there, and it was pretty darn awesome. Here's the first picture I took inside the museum's main building.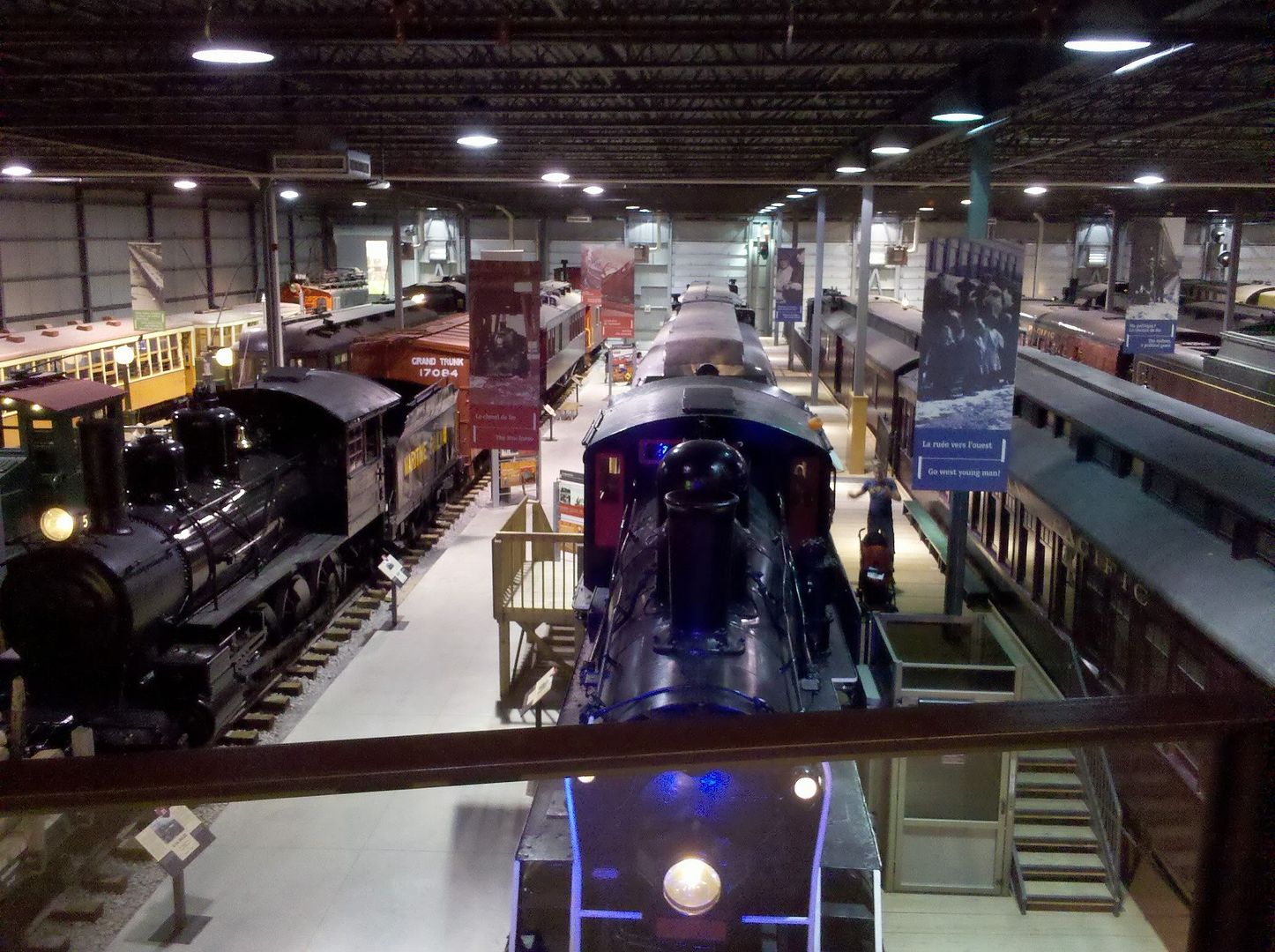 That's only half of what they've got in the main display area; there's a whole rail yard to walk around, passenger trains to ride on some days, and another building out back with even more engines, cars, and cabooses. I'm kicking myself that I didn't go earlier in the weekend; as part of celebrating the 175th anniversary of Canada's first railway, there was reduced admission and things brought out that usually don't get seen.
Anyway, I've got a bigger album
on Facebook
, although you really have to be there to get the full effect.
One funny sign I saw (and yes, I know what it really means):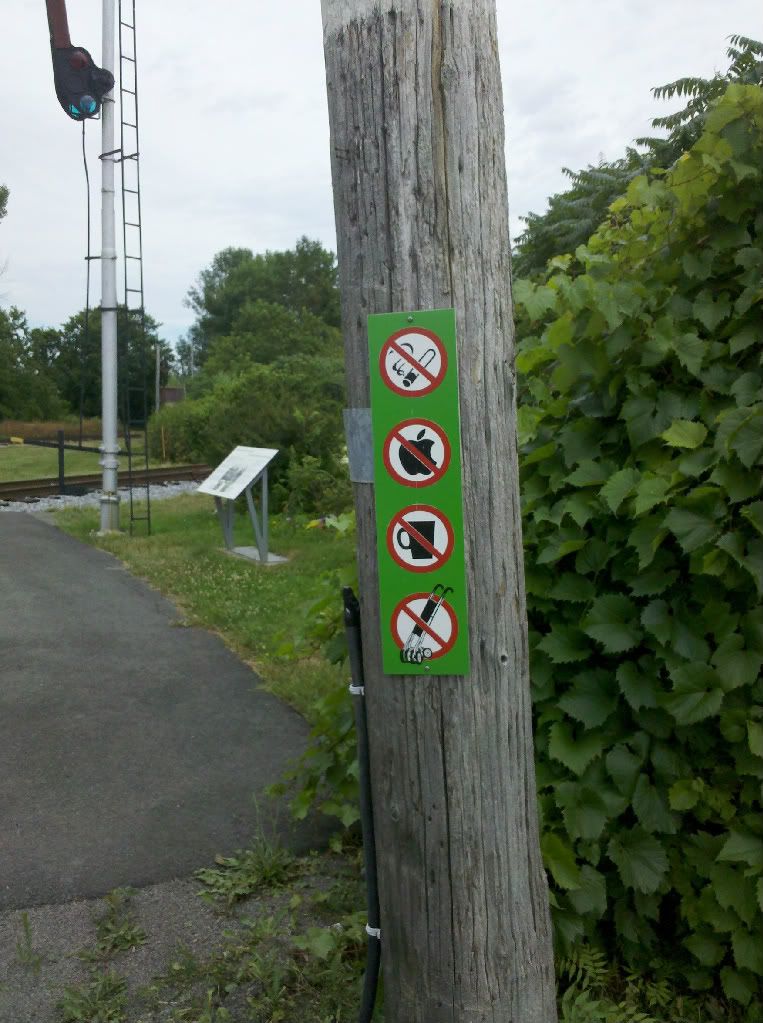 ... don't worry, I took all these pictures on an Android device.
And now, the reviews of the day. No guests, but a couple pretty good movies:
Daan Gyun Naam Yu (Don't Go Breaking My Heart)
* * * ¾ (out of four)
Seen 25 July 2011 in Theatre Hall (Fantasia 2011)
Though it is quite possibly in your head just form reading this film's title, a certain 1978 Elton John/Kiki Dee duet makes no appearance on this movie's soundtrack, in any language. It has one part too few, after all -
Don't Go Breaking My Heart
, the movie, has three fine leads, making for a love triangle that manages to be balanced and very, very funny.
Chang Zixin (Gao Yuanyuan) is a catch - she's pretty, smart, cheerful, kind, and funny. Her ex-boyfriend with the bitchy, pregnant new wife seems painfully aware of this. Cheung Shen-ran (Louis Koo Tin-lok), the hunky investment banker with the office across the street, sees it, silently flirting via messages in the window before asking her out. Fang QiHong (Daniel Wu Yan-zu), a disheveled architect whose drinking has made him fall from the top of his profession, also sees it; he meets her by chance, helps her convert her ex's junk into an upbeat new look (though he keeps the frog), and even lays off the sauce so that he can show her something impressive. However, a pair of missed connections means she winds up dating neither. At least, not in 2008. Three years later, Zixin's company hires Shen-ran as the new head of the Hong Kong office, while a cleaned up QiFong moves into the office across the way that had been vacant since the US financial crash.
Many romantic comedies run on coincidence;
Don't Go Breaking My Heart
is able to embrace it. This can be a massive cheat, but it works here in large part because the filmmakers see happenstance not as shortcuts or justification (the "it's destiny" play), but opportunities. Zixin encounters the same people repeatedly, yes, but what's important is what she does with those chances. The script has other tricks up its sleeves, of course, and put together they make for a winning combination of surprises and wit.
Full review at EFC.
The Innkeepers
* * * (out of four)
Seen 25 July 2011 in Theatre Hall (Fantasia 2011)
Ti West knows how to make his audience jump, which isn't necessarily as easy as it sounds. Harder, though, is leading up to those jumps with light comedy
and
deep shivers, and West pulls that off, too. The trick is to get all three working well together, and West manages that better than most, though with some bumps along the way.
It's the last weekend before the Yankee Pedlar Inn closes its doors forever, and the owner isn't even on hand for it. The last two employees, college dropout Luke (Pat Healy) and perky teenager Claire (Sara Paxton), have already closed up the top floor and have just two rooms booked on the open second, with two others set aside for their own use. And while the mother on the outs with her husband (Alison Bartlett) is annoying, Claire is a fan of the other guest, former TV star Leanne Rease-Jones (Kelly McGillis). Still, Claire and Luke mostly plan to spend this last weekend worrying less about customer service than trying to dig up signs of the ghost said to haunt the place.
In some ways, West should perhaps take it as a compliment that I would have been perfectly willing to trade potential haunting for some more annoying guests and maybe interactions with other locals stuck in the service industry. That material is genuinely funny and offbeat, with Claire and Luke having mildly snarky personalities that handle that scene well, meshing nicely but also having their own voices. There's a ton of good comedy in here, but with a sneaky undercurrent of them being friends who might not see each other again after the inn and maybe wanting more. That, there, is an enjoyable film itself.
Full review at EFC.