Festivals collide! I had high hopes of finishing my SXSW reviews before starting IFFB, but a rained-out Red Sox game on Tuesday led to me rising early to work from home before heading to the rescheduled game on Wednesday, depriving me that distraction-free hour on the bus where most of the work gets done. Still, two more:
*
The Way We Get By
*
The Slammin' Salmon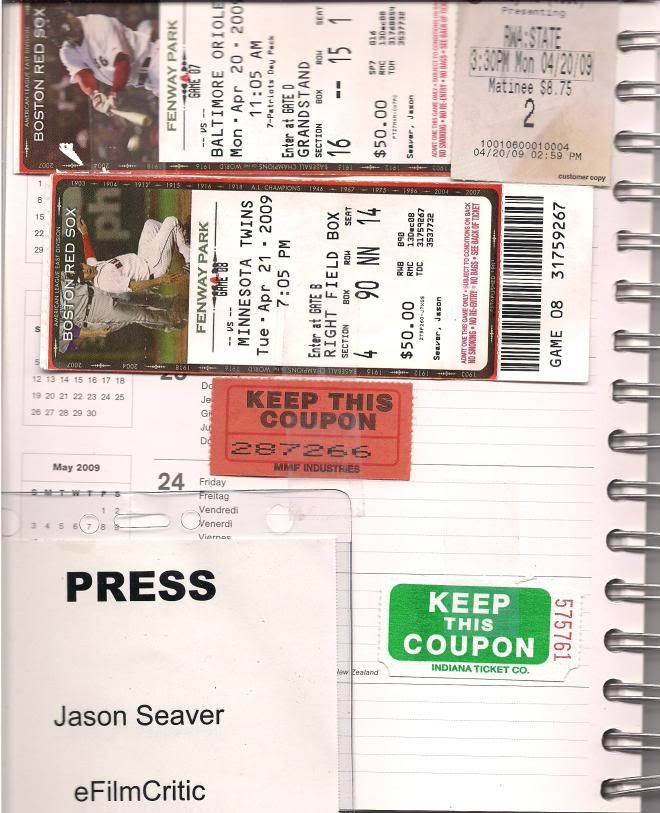 So, pretty crazy week for a person who likes baseball and movies. Naturally, I was outside and exposed to the elements at Fenway Park on the days when the whether was cold, windy, and rainy; the weekend of the festival, when I was inside apart from waiting in line, were ridiculously beautiful for April. At least I wasn't having to choose between them, which is always a peril.
(Like in a couple weeks, where I have tickets for both games against the Rays on the weekend when the new
Star Trek
opens in IMAX. Oooowwwww.)
So far, I've seen 14 movies at IFFB, with three more on tap for the next couple of days. I figure you can max out this year's schedule at 20 movies, but that basically means camping out at the Brattle on Saturday and Sunday, and I'd already seen 4 of those movies and was less than enthusiastic about a couple others. The final schedule wound up as:
22 April 2009 (Wednesday)
:
The Brothers Bloom
23 April 2009 (Thursday)
:
Children of Invention
,
The Missing Person
24 April 2009 (Friday):
Johnny Cash at Folsom Prison
,
In The Loop
,
Pontypool
25 April 2009 (Saturday):
Still Walking
,
Nollywood Babylon
,
Lost Son of Havana
,
Grace
26 April 2009 (Sunday):
Herb and Dorothy
,
Helen
,
Unmistaken Child
,
The Escapist
27 April 2009 (Monday):
For the Love of Movies
,
Art & Copy
28 April 2009 (Tuesday):
World's Greatest Dad
I must say, if I weren't also working a real job on the weekdays, that bell-curve shape would make IFFB one of the more relaxing festivals I do, with the build and slow tailing off, in stark comparison to, say, SXSW, which slams you from start to finish all week (see how much more "square" a similar list
here
is).
State of Play
* * ¾ (out of four)
Seen 20 April 2009 at Regal Fenway #2 (first-run)
I am reasonably sure that I would have an easier time writing reviews for movies I saw a month ago at SXSW than this one, and not just because IFFB has more or less overwhelmed my short-term memory; this is a decent-enough thriller that nevertheless fails to make much of an impression. It's not obviously cut down from a longer miniseries, but it still feels kind of half-baked. No-one actually yells "stop the presses!", but the last act has enough "stop the presses!" moments that I was giggling by the last one. Despite personally believing that Blackwater is a scary organization, I'm not sure I need to see another thinly disguised analog used as a villain any time soon, unless a writer comes up with a really interesting take on the private army. And for all the odes to newspapers this film has inspired, it really doesn't have much of a take on the old-media/new-media conflict at all - Rachel McAdams's Della Frye seems less like a blogger whose style and methods clash with Russell Crowe's character than a character invented to do all the physical activity that Crowe is at the wrong extreme of his eating disorder to do.