Well, with the festival done and reviews trickling in, it's time to take a break from moviegoing, right?
Wrong!
Indeed, the weekend's two must-sees from the other side of the Pacific are getting second viewings because of how awesome they were at various festivals; I recommend them both highly.
*
Hausu
is properly named
House
- it's even in English on the prints - but we wouldn't want to confuse it with a sequel-spawing 1980s American haunted house movie, would we? No! For this is an absolutely insane bit of trippiness from Japan, which I saw on video
at last year's BUFF
, and loved. It's beautiful, and beautifully insane. It's running for a measly three days at
the Brattle
(Friday 30 April 2010, Saturday 1 May 2010, and Monday 3 May 2010, no shows on Sunday), and they will sell out. Midnights were selling the IFC Center in New York out for months after what was expected to be a two-week run, so see it in beautiful 35mm while you can, and hope that the Brattle or Coolidge bring it back for midnights later.
*
The Good, The Bad, The Weird
has been held in distribution limbo because of MGM complaining about the title, although IFC dropping a single conjunction seems to have done it. I saw it at the Brattle on Saturday night as part of "IFFBoston After Dark", and it is awesome. The opening train robbery is a funny, action-packed set piece that is best in class, there is near-constant action throughout, and the final chase scene could easily have been lifted out of an Indiana Jones movie, just in terms of it being one crazy thing on top of another. The thing is just a giddy delight of an action movie. It's the one-week wonder at Landmark Kendall Square, but hopefully it will stick around for a while longer once people see it and get the word out that it's a blast.
(Those are what pass for marching orders around here, people!)
* Also opening at Kendall Square are
The Cartel
and
The Girl on the Train
. The former is a documentary on the troubles with the American educational system which apparently places the blame squarely on teacher's unions, which I'm sure will play extremely well in the People's Republic of Cambridge. The latter caught my eye for featuring Emilie Duquennes, who was one of the many things I absolutely loved about
Brotherhood of the Wolf
and whose appearances on American screens have been rare to nonexistent since.
* Leaving the Kendall but heading to the Coolidge is
The Square
, which to my mild surprise will be mostly playing on film in the larger theaters (though there will be some showings off Blu-ray; make sure before you go). Also opening there are BUFF's
It Came from Kuchar
and foreign-language Oscar-winner
The Secret in Their Eyes
. Still, I think it's clear that the most important thing going on there this weekend is
Tremors
on the big screen at midnight.
* The Harvard Film Archive is closed Friday and Saturday night, but offers more
John Ford
on Sunday and Monday. The MFA has
Mississippi Mermaid
,
The Headless Woman
, and
October Country
* Major openings are
Furry Vengeance
and the remake of
A Nightmare on Elm Street
, so it's a great time to catch up on the major releases missed during the festival.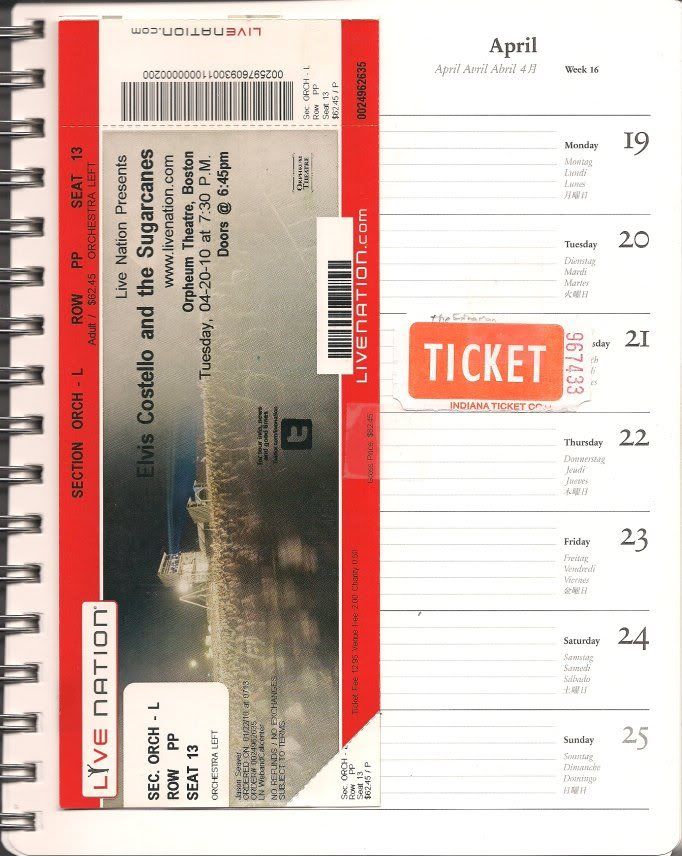 For that price, that had better be a pretty nice seat at the Elvis Costello concert, and it was. I presume this tour - of which Boston was apparently the first show - is in support of a new album with this Sugarcanes band, which I haven't yet picked up. It was a pretty fun time, and a mostly acoustic set, and a good demonstration of one of the reasons I like Elvis: His catalog is large and varied enough that there are only a few specific songs that you have to expect no matter what. This tour is obviously going to be slanted toward country/roots/folk stuff, and he's got enough of that that there's no need to force it on songs where it doesn't work.
Anyway, here's a rundown of the festival stuff for the week, with links to what's already been reviewed. It's going to take some time to get through this, I can see.
21 April 2010
:
The Extra Man
22 April 2010
:
Taqwacore: The Birth of Punk Islam
,
Cracks
23 April 2010
:
Winter's Bone
,
Down Terrace
,
Machotaildrop
24 April 2010:
Pelada
,
War Don Don
,
The Freebie
,
I Am Love
,
The Good, The Bad, the Weird
25 April 2010:
The Parking Lot Movie
,
NY Export: Opus Jazz
,
Hipsters
,
The Killer Inside Me
26 April 2010:
Tiny Furniture
, Shorts 3: Animation
27 April 2010:
Marwencol
,
Jean-Michel Basquiat: The Radiant Child
28 April 2010:
Micmacs