Work and wanting to catch the last weekend of Red Sox baseball, even though the loss in Yankee Stadium on the 26th more or less killed any postseason delusions kept it kind of light: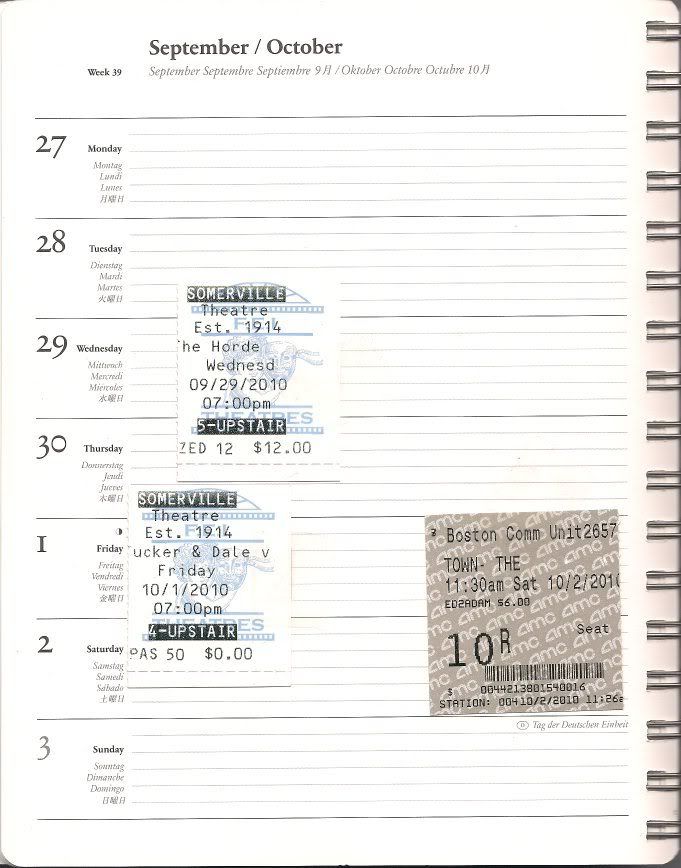 Stubless:
Last Red Sox game of the season
I actually do have the printout from StubHub for that game, but it's huge, my printer was balking at printing certain colors, etc., so we'll pretend otherwise. It was, at least, a pretty darn good game for the last one of the season. It's somewhat unusual for those games to play out like real, honest-to-good regular-season major league baseball games (usually, after getting an at bat or two, the starters will be pulled to applause, making it feel like a spring training exhibition). Some fun and unusual things did happen: David Ortiz went 3-3, with the last being an amusing bunt against the shift for a base hit. He was removed for a pinch-runner, and it was sort of a cool thing, because it let the crowd applaud the oddness of the play rather than the fact that this could be his last game. There was a bit of a surprise retirement party feel to the game for Jason Veritek, who started and caught most of the game before being lifted in the ninth; that applause did feel like it was saying goodbye.
And, most surprisingly, John Lackey pitched a pretty good, non-frustrating game. Naturally, Jonathan Papelbon made an effort to give it away in the 9th, but the six run lead was too much for him. Still, they let us go on the field and run the bases afterward, which was pretty darn cool - the line took us out by the wall, around the field, to the first base bag and then around the bases, exiting near the visitor's dugout. Pretty cool.
Especially considering that Fenway played a big part in the week's only non-festival film...
The Town
* * * ¾ (out of four)
Seen 2 October 2010 at AMC Boston Common #10 (first-run)
The opening heist in this movie takes place in Harvard Square, fairly close to where I live and where I spend a lot of my time. For a moment I wondered how long ago they filmed it, as the Alpha Omega watch shop that has been empty for a couple of years looked like a going concern. I guess the set decorators just put some stuff in the windows (which was more than they did for
Surrogates last year
). The other end takes place in and around Fenway Park, much more than the usual "show them in the park to remind folks we're in Boston".
In between, it's a pretty darn good crime/romance movie. I've never been close to being as down on Affleck as some folks have - the man does have an Oscar for writing, and when you get him on a project he loves or with a director who can bring out his best, he's always been pretty good (which isn't very different from most actors). Here, he's in his wheelhouse, giving us a career criminal as likable as they believably come. He and his cast make their characters real enough that we instinctively understand the relationships between them well before the specifics are spelled out. Jeremy Renner is pretty great, too, playing Affleck's partner-in-crime as a psycho you might meet on the street, with the violence just below the surface.
And he does action pretty well. The opening heist is as smooth and assured on film as it is when the FBI breaks it down later, and while the final shootout gets a bit out of hand, it's thrilling and suspenseful. I think the ending is a little bit of a cop-out (some folks seem to get too clean a resolution), but not nearly enough to damage what leads up to it.